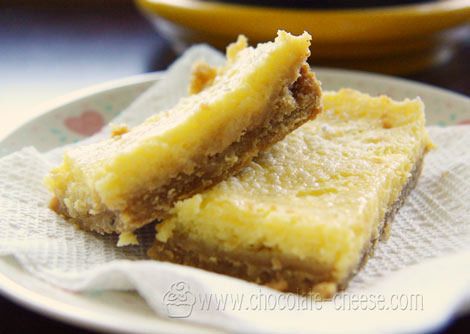 Ingredients:
2/3 cup butter, softened
1/2 cup packed brown sugar
1/2 tsp salt
1/2 tsp nutmeg
2 cups flour
4 eggs
1-1/2 cups sugar
1/4 cup flour
6 tbs lemon juice
2 tbs grated lemon zest
1 tsp baking powder
1/2 tsp salt
powdered sugar
Preheat oven to 350 degrees. For crust, place first four ingredients in a large bowl and beat at medium speed until smooth. Add 2 cups flour and beat at low speed until well blended. Press into a 13 x 9 inch baking pan. Bake for 20 minutes.
While crust is baking, prepare topping. Beat eggs slightly. In a separate bowl, stir together sugar and 1/4 cup flour. Add to eggs. Beat well. Add lemon juice, zest, baking powder and salt. Beat until smooth.
Pour lemon mixture over baked crust. Return to oven and bake 25-30 minutes or until just set. Sprinkle with powdered sugar while hot. Let cool and cut into bars.